PM AC YOJANA
A good news for those who think buying AC (air conditioner) is very expensive and also its electricity bill, because government is going to provide cheap and Super-Efficient Air Conditioners.Whats the full report about PM AC YOJANA 2019 and how to book it ? : I will tell you here on infoseekershub.com
In order to provide relief from heat, Narendra Modi's government has started campaign named "PM AC YOJANA 2019" to provide AC in each house.
Just like LED lights were provided at cheap rates similarly AC's will also be provided at cheap rate. Prime motive of government is to provide AC to each house and protect or provide people relief from extreme hot temperature.
WHY YOU WILL GET AC's AT CHEAP RATE THROUGH PM AC YOJANA 2019?
Firstly, the AC which government has launched is up to 15-20 % cheaper than other companies.Not only this but it is even better than the 5 star rated AC's available in market.
Secondly, this task is not given to any private company, a govt. company named  EESL(Energy Efficiency Services Limited) is given this task and VOLTAS is manufacturing it.
EESL was also responsible for manufacturing cheap LED lights,fans and tube lights.
BENEFITS OF PM AC YOJANA 2019

Firstly, up to 35-40% electricity will be saved through these AC's.Not only you will get cheap and best AC but your electricity bill will also be reduced.
Secondly, you can buy these AC's in exchange offer. If you have to sell any old AC than you can exchange it for new and cheap AC. 
You can buy these AC's while sitting in your house i.e. you can book it online and it will be delivered to your doorstep and installed by professionals within 72 hours.
Also you will get 1 year warranty on product and 5 years on compressor.
In 2018, government had introduced an advisory to all AC companies to keep 26 degree as default temperature rather than 24 degree in AC's. In Japan, there's rule to operate AC's at 28 degree not even less or more than it.Due to this electricity consumption becomes less and room or office stays cool.So this is the way to keep your AC live long and save bill too.
Moreover, through this campaign each year 20 billion units energy will be saved.So it's the time to buy AC's rather than coolers.
Only split AC's are available now and only 50,000 AC's are manufactured.If this campaign becomes successful than it will be made in huge amount 200,000 approx.
Since only 50,000 in stock so it is available in only few areas.So you will have to check that it's available in your area or not. Don't worry I will tell you how to do so further.
Conditions for buying AC through PM AC YOJANA 2019 :
There is only one condition to buy these ACs through PM AC YOJANA 2019, that the AC can be booked on the name of the person on whose name electric meter is registered.
Now here is the quick look of product and its features…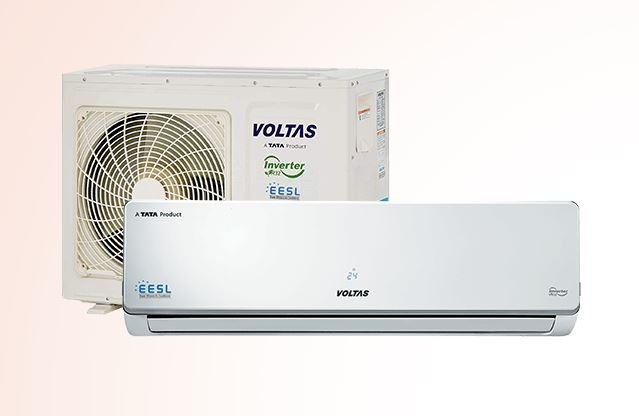 5 STAR INVERTER SPLIT AC 185V ZZS(R-32)
Rs 41,300/-
(including GST)
Capacity : 1.5 TR
Energy Rating : BEE 5 Star, Best in class efficiency
Manufacturer Warranty : 1 year on product, 5 years on compressor

FEATURES OF SUPER EFFICIENT AC

CONSUMER BENEFITS
(PM AC YOJANA)
HOW TO BOOK THESE SUPER EFFICIENT AC's ?

Now i am going to show you how to book these super efficient AC's step by step :
But before that if you want to know about it from official site here's the way to do so :
Simply click this link : EESL.in
OR
Open your web browser.
Type EESL and click on search icon.
You will see following window :
Click on About Energy Efficient ACs.
You will see following window showing all about super efficient AC's:
STEPS FOR BOOKING AC's UNDER PM AC YOJANA 2019
Scroll down you will see a link named as EESLmart.in Click to book your AC.
Or 
Directly click this link : EESLmart.in
You will see the following window :
Click on "BUY NOW". Another window will appear you will see "BUY NOW" option but before clicking it scroll down and check whether it is available in your area or not.After that you can proceed for buying.
Checking availability in your area :
Enter your area's pin code. Don't worry if you don't know what's your area pin code.
Know pin code of your area :
Just select your state, city and area from the drop down menus.And click on "Search" button.You will get your required pincode either note it or just copy it and paste it on EESLmart delivery check panel just like in the following :
The given pincode is of Krishi Bhawan,Central Delhi, Delhi.
Its showing delivery available for it.Similarly check for yours and now scroll up and click "BUY NOW".
Another window will appear there you can select quantity and additional air conditioning services, however you can change it later on. After that, click on "CHECKOUT" button as shown :
You will see user registration window, click on "sign up" link as shown :
You will have to enter all your details such as name,phone number,email id, and delivery address.After entering phone number you will get an sms including OTP, you will have to enter this OTP in the required field as shown :
After that enter the captcha and click on "REGISTER".
Now you will be redirected back to sign in window.Just click on the "cart" icon at the top as shown :
Again your cart will be open, you can edit or add services as per your requirement.After that click on "CHECKOUT".
Now another window will appear,select your "Power Distribution Comapny" from the given choices as shown below :
Also enter your consumer number (written on electricity bill) and click on "SUBMIT" button.
If you don't know what is consumer number click here : What Is Consumer Number ?
Now in next window you will see your Delivery Address, you can edit it too if you want. Click on "Continue" button
Now "Product Review" window will appear you can increase/decrease product quantity. Click on "Continue" button.
Now you will see all your order review.Click on "Continue" button.
Now choose Payment option from the given options as shown and after that click "PAY" button.
You will have to choose payment option in next window.You can opt :
Credit Card
Debit Card
Net Banking
EMI options
Now enter your card details and after that click on "PAY" button.
you will recieve OTP on your registered phone no. use that otp and confirm your payment.After payment you can see your order's status by signing in on EESLmart.in.
Now you are all set, your AC will be delivered to your doorsteps and installed by professionals within 72 hours of booking.
Take the advantage of this campaign (PM AC YOJANA 2019) and get SUPER EFFICIENT AC at cheap rate !!
Hurry Up book it for yourself because only limited stocks are available.
Hope I was able to explain you all.If you liked this kindly share this with your friends and comment down about this post.
☆☆☆☆☆ THANK YOU ☆☆☆☆☆
If any query, feel free to contact us..